Residential Kitchen Sinks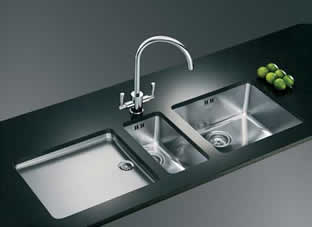 Abe Cohen Plumbing and Heating Inc. is who you need to call for residential kitchen sinks in Ahuntsic, Baie D'Urfe, Beaconsfield, Bord du Lac, Cote Saint-Luc, Cote St-Luc, Dollard des Ormeaux, Dorval, Downtown, Hampstead, Ile Bizard, Lachine, Lacey Green, Lakeshore, LaSalle, Laval, Mile End, Montreal West, NDG, Nouveaux St. Laurent, Nun's Island, Old Montreal, Outremont, Pierrefonds, Plateau, Pointe Claire, Pointe St. Charles, Roxboro, Ste-Genevieve, St. Henri, Town of Mount Royal, Verdun, Ville St. Laurent, West Island, Westpark, Westmount.
Problems with the Kitchen Sink?
If it is time for you to do something about your kitchen sink, we can help you to understand your options and to decide: repair, replace, upgrade. Now may be the perfect time to give yourself some kitchen convenience that you may have thought about:
a larger or a double sink (two sinks instead of one, for greater convenience)
instant hot (a rapid-hot water faucet for beverage and other use)
garburator (In-Sink-Erator or other waste disposer, grinds and flushes most kitchen waste)
spray hose (for washing and rinsing food and dishes).
Other Considerations for Kitchen Sinks
We provide and install all types of kitchen sinks:
drop-in (the most common type of installation: galvanized or ceramic sink, with a lip that is supported by the counter)
under-mount (no lip, the entire sink is lower than the counter)
appropriate fixtures and accessories (faucets, waste disposers, etc.).
At Abe Cohen Plumbing and Heating Inc, we are a three-generation family business with more than 50 years in the plumbing trade. We consider our customers to be family and friends in a long-term relationship with us. We have the experience, expertise, tools, and equipment to install or replace residential kitchen sinks in the greater Montreal area. We are respectful, clean, and professional. We are certified and active members of CMMTQ (Corporation des maîtres mécaniciens en tuyauterie du Québec), ACQ (Association de la Construction du Québec), and certified partners of Énergir for natural gas piping and installations.