Residential Drain Cleaning and Repair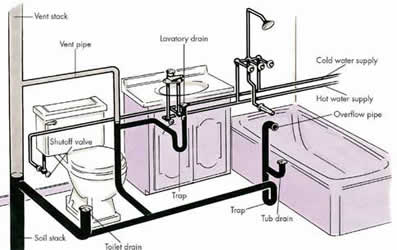 Abe Cohen Plumbing and Heating is who you need to call for residential drain cleaning and repair in Ahuntsic, Baie D'Urfe, Beaconsfield, Bord du Lac, Cote St-Luc, Dollard des Ormeaux, Dorval, Downtown, Hampstead, Ile Bizard, Lachine, Lacey Green, Lakeshore, LaSalle, Laval, Mile End, Montreal West, NDG, Nouveaux St. Laurent, Nun's Island, Old Montreal, Outremont, Pierrefonds, Plateau, Pointe Claire, Pointe St. Charles, Roxboro, Ste-Genevieve, St. Henri, Town of Mount Royal, Verdun, Ville St. Laurent, West Island, Westpark, Westmount.
A blocked or damaged drain is not only annoying but can be a serious health risk to you, your family, and your neighbours. Any drain that does not evacuate must be dealt with promptly. When the problem goes beyond hair blocking a drain or an obstruction that can be cleared with a plunger, we hope that you will consider leaving this dirty job to our years of training and experience. In the end, it can save you money over trying to deal with a serious drain problem by yourself.
Identifying which drain is blocked may seem to be simple and obvious but the cause of the problem is very often not what the clues seem to indicate. We sincerely hope that you trust your blocked drains to our professional plumbers. A blockage in a toilet, tub, main drain, sink, or other fixture, all have unique properties that affect our decisions: which tools are required and which methods should be employed to free the drain and cause no harm to the fixtures and drains.
At Abe Cohen Plumbing and Heating Inc, we are a three-generation family business with more than 50 years in the plumbing trade. We consider our customers to be family and friends in a long-term relationship with us. We have the experience, expertise, tools, and equipment to clean or repair drains in the greater Montreal area. We are respectful, clean, and professional. We are certified and active members of CMMTQ (Corporation des maîtres mécaniciens en tuyauterie du Québec), ACQ (Association de la Construction du Québec), and certified partners of Énergir for natural gas piping and installations.