Emergency Shower and Eye Wash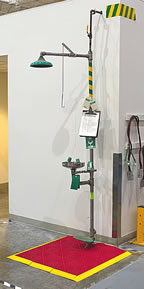 Abe Cohen Plumbing and Heating Inc. is who you need to call for emergency shower and eye wash stations in Ahuntsic, Baie D'Urfe, Beaconsfield, Bord du Lac, Cote Saint-Luc, Cote St-Luc, Dollard des Ormeaux, Dorval, Downtown, Hampstead, Ile Bizard, Lachine, Lacey Green, Lakeshore, LaSalle, Laval, Mile End, Montreal West, NDG, Nouveaux St. Laurent, Nun's Island, Old Montreal, Outremont, Pierrefonds, Plateau, Pointe Claire, Pointe St. Charles, Roxboro, Ste-Genevieve, St. Henri, Town of Mount Royal, Verdun, Ville St. Laurent, West Island, Westpark, Westmount.
Emergency Shower and Eye Wash: you can't live without it!
If your industry is required by Quebec's C.S.S.T. (Commission de la santé et de la sécurité du travail, CSST) to provide emergency shower and eye-wash stations, we have the knowledge and experience to plan and execute the complete installation. This important piece of safety equipment is usually needed when seconds are crucial. To remain prepared for possible injuries, ensure that your emergency shower and eye-wash station is reliable and effective, ready for use if needed, we encourage you to trust this important installation to our experience and skill.
Especially when corrosive substances are involved, eye-wash stations and emergency showers need to be accessible within 15 seconds or less. The purpose of the emergency shower and eyewash station in industry is to be always accessible, in a well-identified location, and ready for instant unassisted use. All workers should know the location and function of the company's emergency shower and eyewash stations.
For further reference: Canadian Centre for Occupational Health and Safety
At Abe Cohen Plumbing and Heating Inc., we are a three-generation family business with more than 50 years in the plumbing trade. We consider our customers to be family and friends in a long-term relationship with us. We have the experience, expertise, tools, and equipment to install emergency shower and eye wash stations (as may be required by CSST) in the greater Montreal area. We are respectful, clean, and professional. We are certified and active members of CMMTQ (Corporation des maîtres mécaniciens en tuyauterie du Québec), ACQ (Association de la Construction du Québec), and certified partners of Énergir for natural gas piping and installations.