Residential Heating Boilers (for Hot Water Heating System)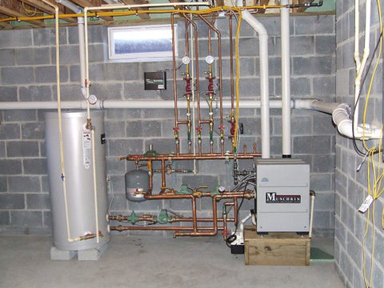 Abe Cohen Plumbing and Heating Inc. is who you need to call for residential water heating in Ahuntsic, Baie D'Urfe, Beaconsfield, Bord du Lac, Cote Saint-Luc, Cote St-Luc, Dollard des Ormeaux, Dorval, Downtown, Hampstead, Ile Bizard, Lachine, Lacey Green, Lakeshore, LaSalle, Laval, Mile End, Montreal West, NDG, Nouveaux St. Laurent, Nun's Island, Old Montreal, Outremont, Pierrefonds, Plateau, Pointe Claire, Pointe St. Charles, Roxboro, Ste-Genevieve, St. Henri, Town of Mount Royal, Verdun, Ville St. Laurent, West Island, Westpark, Westmount.
The heating boiler is the heart of your hot-water (hydronic) heating system—the part that heats the water that circulates through the radiators (also known as convectors) to deliver that comfortable radiant heat. We sell, install and service boilers, whether they may be electric, natural gas fired (standard or high efficiency), or part of a bi-energy system.
Because the boiler is the heart of your system, its efficient operation is critical to your heating system. When your boiler is not functioning, there simply is no heat to the circulating water system that heats the building. We install and service all major heating system components: for more information, visit our main heating page.
At Abe Cohen Plumbing and Heating Inc., we are a three-generation family business with more than 50 years in the plumbing trade. We consider our customers to be family and friends in a long-term relationship with us. We have the experience, expertise, tools, and equipment to install, repair, service, or replace a residential heating boiler in the greater Montreal area. We are respectful, clean, and professional. We are certified and active members of CMMTQ (Corporation des maîtres mécaniciens en tuyauterie du Québec), ACQ (Association de la Construction du Québec), and certified partners of Énergir for natural gas piping and installations.